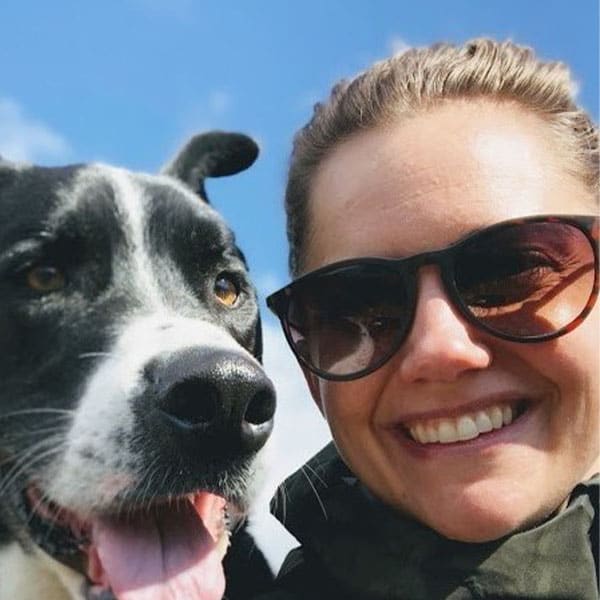 Dr. Amy Ayers
Dr. Ayers was born in Pemberton but grew up all over BC, including Lillooet, Powell River, Williams Lake, and Prince George. She loves the Kootenays because it reminds her of Pemberton with the mountains, lakes and snowy winters without all the traffic!
She received her BSc in Chemistry from the University of Northern British Columbia (UNBC) in Prince George in 2008, followed by her DVM from the Western College of Veterinary Medicine (WCVM) in Saskatoon in 2014. Amy graduated with the Vandi Award for Excellence in Equine Care and Patient Advocacy. Since then, she has been practising veterinary medicine in the Kootenays, first in Cranbrook, then Nelson and now here with us! Dr. Ayers strives to provide a high standard of medicine and surgery while caring for her patients and their families. Her particular interests include surgery, preventative care, and promoting pet insurance so that owners are prepared for the unexpected.
She currently lives in Fruitvale with her spouse, Dean, and their new daughter, baby Alivia. Their family also includes many furry members! They have 2 dogs: Blitz, a polite German Shepherd, and Atlas, a sweet, gigantic and exuberant Bernese Mountain mix; along with 4 cats: Link and Zedd, who are brothers, Sailor, an SPCA rescue, and Pinto, a Mexican street cat who Amy rescued on her last vacation there.
Dr. Ayers has returned from her Maternity leave, and we are all so excited to welcome her back!!
Education
Doctor Of Veterinary Medicine, WCVM Class of 2014
Bachelor of Science (Chemistry), UNBC Class of 2008
Interests
When she's not at work, she enjoys travelling, scuba diving, riding horses, skiing, reading and watching movies. When she's at home, she loves to spend quality time with her growing family.